WHY WE NEED ONLINE ARCHIVES OF RECORDED POETRY
Abigail Lang

Université Paris-Diderot
Keywords:
recorded poetry, online archive, close listening
Abstract
This article argues in favor of online archives of recorded poetry. While poetry has always been recited, the possibility of recording the voices of poets provides poetry with a new medium. Sound-recording technologies have existed for over a century and the recordings accumulated are numerous and extremely heterogeneous, both in terms of carriers and sources. But too little has been made, at least in France, of these vast resources some of which will be lost if they are not soon digitized. This disregard has had historical and generic consequences. It has distorted the recent history of the genre and restrictedour view of the poem. The paper begins by considering how sound recordings modify our conception of what a poem is. In the United States, where the revival of the poetry reading dates back to the mid-1950s, the creation of online archives of poetry from the 2000s has been changing how poetry is researched, taught and encountered. North-American scholars have suggested some of the uses to be made of recorded poetry but European scholars are beginning and must continue to contribute other approaches based on their own poetic and scholarly traditions. The bulk of the article presents and contextualizes some of these uses. It ends by briefly presenting Archives sonores de la poésie,a scholarly project begun in 2017 for an online archive of French and francophone poetry.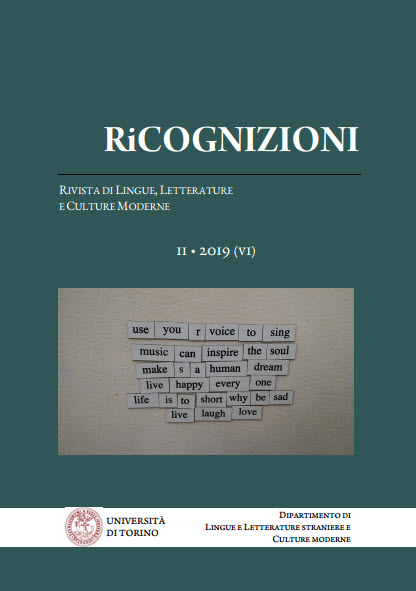 How to Cite
Lang, A. (2019). WHY WE NEED ONLINE ARCHIVES OF RECORDED POETRY. RiCOGNIZIONI. Rivista Di Lingue E Letterature Straniere E Culture Moderne, 6(11), 169-176. https://doi.org/10.13135/2384-8987/3326
RiCognizioni is published under a Creative Commons Attribution 4.0 International License.
With the licence CC-BY, authors retain the copyright, allowing anyone to download, reuse, re-print, modify, distribute and/or copy their contribution. The work must be properly attributed to its author.
It is not necessary to ask further permissions both to author or journal board.