"FISHES LEAPT OUT FROM THE BLUE WATER BECAUSE OF HIS SWEET MUSIC". MUSIC, POETRY AND SOUL IN ORPHEUS' MYTH
Matteo Stefani

Università degli Studi di Torino
Abstract
"Fishes leapt out from the blue water because of his sweet music". Music, poetry and soul in Orpheus' myth. Through the analysis of different sources, this paper highlights the main events in Orpheus' myth: the heroes' birth, the power of his singing on plants and animals, the teaching of Dionysus' mysteries, the descent into the Hades and his death. These elements are now analysed in light of the power of poetry and music on human soul. This deep meaning of Orpheus' myth explains its lasting presence in ancient Greek culture.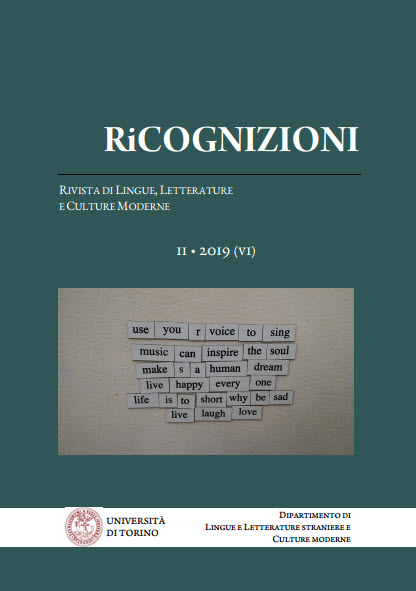 How to Cite
Stefani, M. (2019). "FISHES LEAPT OUT FROM THE BLUE WATER BECAUSE OF HIS SWEET MUSIC". MUSIC, POETRY AND SOUL IN ORPHEUS' MYTH. RiCOGNIZIONI. Rivista Di Lingue E Letterature Straniere E Culture Moderne, 6(11), 149-158. https://doi.org/10.13135/2384-8987/3077
RiCognizioni is published under a Creative Commons Attribution 4.0 International License.
With the licence CC-BY, authors retain the copyright, allowing anyone to download, reuse, re-print, modify, distribute and/or copy their contribution. The work must be properly attributed to its author.
It is not necessary to ask further permissions both to author or journal board.