ROBO-ADVISORY FOR ISLAMIC FINANCIAL INSTITUTIONS: SHARI'AH AND REGULATORY ISSUES
Auwal Adam Saad

Asst. Professor IIUM Institute of Islamic Banking and Finance International Islamic University Malaysia

https://orcid.org/0000-0001-6125-810X

Sayed Musa Alhabshi

Assc. Professor IIUM Institute of Islamic Banking and Finance International Islamic University Malaysia

Azman Bin Mohd Noor

Assc. Professor IIUM Institute of Islamic Banking and Finance International Islamic University Malaysia

Rusni Hassan

Professor IIUM Institute of Islamic Banking and Finance International Islamic University Malaysia
Keywords:
Robo-Advisory, Islamic Finance, Shari'ah and Regulation
Abstract
Artificial intelligence (AI) is the next global game changer in all big data and other technology-based platforms including Islamic financial services. At the forefront of AI applications in financial services is Robo-Advisor. Its potential disruption of the Islamic financial services is imminent as it is being considered by some institutions due to its innovative virtual advisory and the absence of human factor intervention in the decision-making process. Currently the Islamic financial services industry is constantly guided by prescribed Shari'ah related fatwah or rulings for innovative financial products with reference to Shari'ah compliance. Robo-advisors may then be considered to ease the iterative juristic review process to facilitate timely and more robust Shari'ah legal opinions on those products. And since these Robo-Advisors are allegedly swift and smarter to support human judgment this might help achieve more timely, effective and efficient design and delivery of Islamic financial services. This paper aimed at investigating the potential Shari'ah and regulatory issues surrounding Robo-Advisors while adopting the relevant opinions and understanding of Shari'ah classical and contemporary scholars. It also seeks to examine the legal implications of Robo-Advisors in the Islamic financial industry and explore the technical requirements of this emerging phenomenon. The paper also looks into the current market volume of this new artificial intelligence mechanism and predicts the future of this disruptive technology in the Islamic finance industry.
References
Angela Scott-Briggs (2016) "What is a Robo-Advisor, Origin and History?", published by Tech Bullion on November 24th, 2016.
Ismail Ali Ahmad, (2014) "Technology boosts Islamic finance; ITS provides solutions" Worldfinance.com, March 3.
Deloitte and Avaloq (2017) "Emerging Models of digital wealth advisory" Deloitte tax and consulting 2017.
https://journal.wahedinvest.com role of robo-advisors-in-islamic financial institutions.
Maurella van der Ree (2019) "Embracing Robo-Advisory Looks Promising for The Longevity of Financial Advisors. Global Financial Markets Institute. 2019
Guidelines on the Governance of Shari'ah Committee for the Islamic Financial Institutions GSP1, at, 9-11.
Muhammad Akram Laldin, (2008) "Duties and resonsibilies of Shari'ah boards from a legal and regulatory perspective" published by Amanie academy. www.amanieacademy.com.
Jonathan Walter Lam Advised by David F. Swensen (2016) "Robo-Advisors: A Portfolio Management Perspective" Presented to the Department of Economics for consideration of award of Distinction in the Major Yale College, New Haven, Connecticut April 4, 2016.
Farida raswala (2019) "A Study on the Awareness and Perception of Robo Advisory Services Among Investors in Pune City" SSRN Electronic Journal.
Jill E. Fisch, Marion Labouré, and John A. Turner (2018) "The Emergence of the Robo-advisor". The Wharton School, University of Pennsylvania 3620 Locust Walk, 3000 SH-DH Philadelphia, PA 19104-6302. December 2018.
Biancone, P.P., & Radwan, M. (2016) Shari'ah Compliant "possibitily for Italiam SMEs" European Journal of Islamic Finance, (1).
Wee Kee chia, Yash Shah, (2018)Robo-advisory: Key to the untapped Mass affluent Market. Synpulse solve.evolve publication.
Biancone, P.P., & Radwan, M. (2019) Social Finance and Financing Social Enterprises; An Islamic Finance Prospective. European Journal of Islamic Finance.
Dominik Jung, Florian Glaser, Willi Köpplin (2018) Robo-Advisory: Opportunities and Risks for the Future of Financial Advisory: Recent Findings and Practical Cases. November, 2018.
Collins, J. Michael, Financial Advice: A Substitute for Financial Literacy? (2012). Financial Services Review, Vol. 21, No. 4, 307-322. Available at SSRN: https://ssrn.com/abstract=2046227 or http://dx.doi.org/10.2139/ssrn.2046227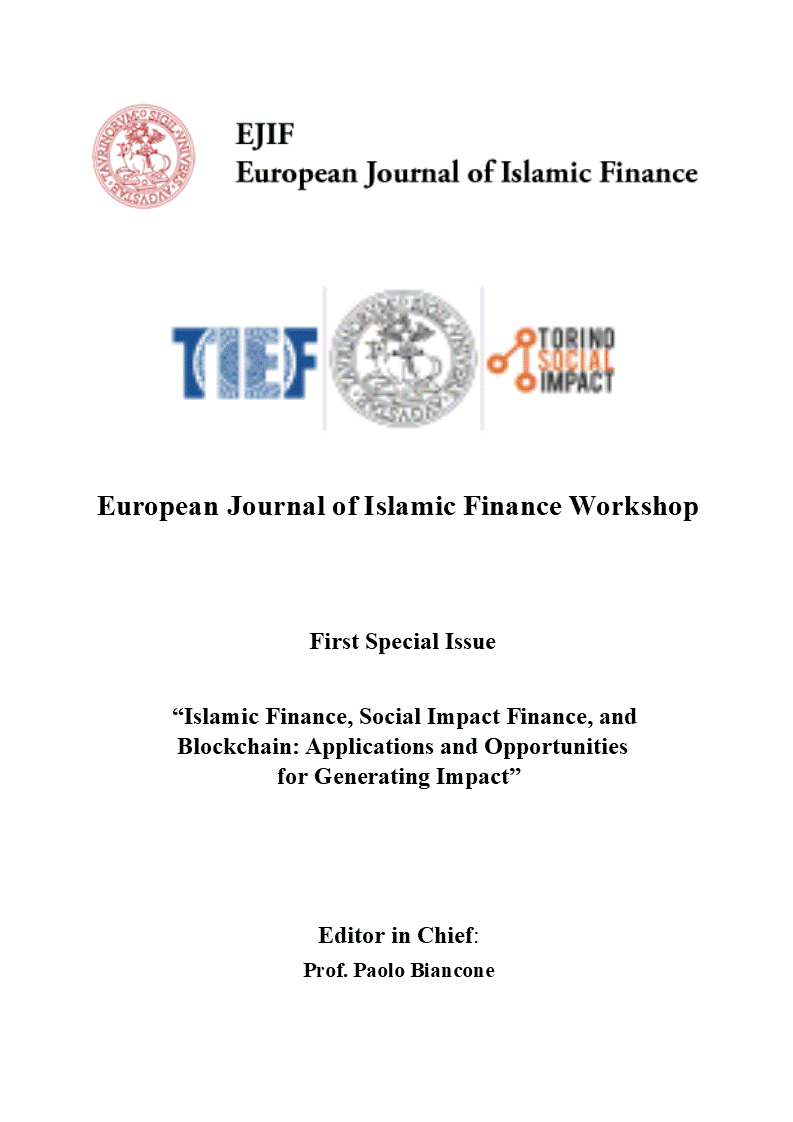 How to Cite
Saad, A. A., Alhabshi, S. M., Noor, A. B. M., & Hassan, R. (2020). ROBO-ADVISORY FOR ISLAMIC FINANCIAL INSTITUTIONS: SHARI'AH AND REGULATORY ISSUES. European Journal of Islamic Finance. https://doi.org/10.13135/2421-2172/3992
Copyright (c) 2020 Auwal Adam Saad, Sayed Musa Alhabshi, Azman Bin Mohd Noor, Rusni Hassan
This work is licensed under a Creative Commons Attribution-ShareAlike 4.0 International License.
EJIF content is licensed under a Creative Commons Attribution 4.0 International License.
Authors keep the copyrights for their work and give the journal the work's first publication copyright, which is at the same time licensed under a Creative Commons License – Attribution, which in turn allows other parties to share the work with an acknowledgement of the work's authorship and initial publication in this journal.