Indifference and virtue: Pyrrhon according to Cicero
Enzo Godinot

Université Bordeaux-Montaigne
Abstract
Cicero's mentions of Pyrrho insist on two supposed dimensions of his philosophical teaching: indifference and virtue. By mentioning this forgotten philosopher, Cicero still intends to make him the most vivid manifestation of a philosophical position consisting in denying any difference among the intermediate things between virtue and vice. Almost always associated with the other philosopher of indifference (Ariston and Erillus), Pyrrho embodies an excessive and apathetic indifference, incompatible with practical life and untenable. However, this description has a notable originality: the idea that Pyrrhon defended honestas (to the point of excess) can be found in none of the testimonia, but Cicero's ones. The aim of this study is to analyse the Ciceronian mentions of Pyrrho and the doxographies that Cicero inherits by analysing the modifications he makes: this will highlight the fact that Pyrrho is a scarecrow that Cicero has both inherited and transformed and that assumes a major strategic role in his critique of indifferentism and of the stoics' atrocitas.
Downloads
Download data is not yet available.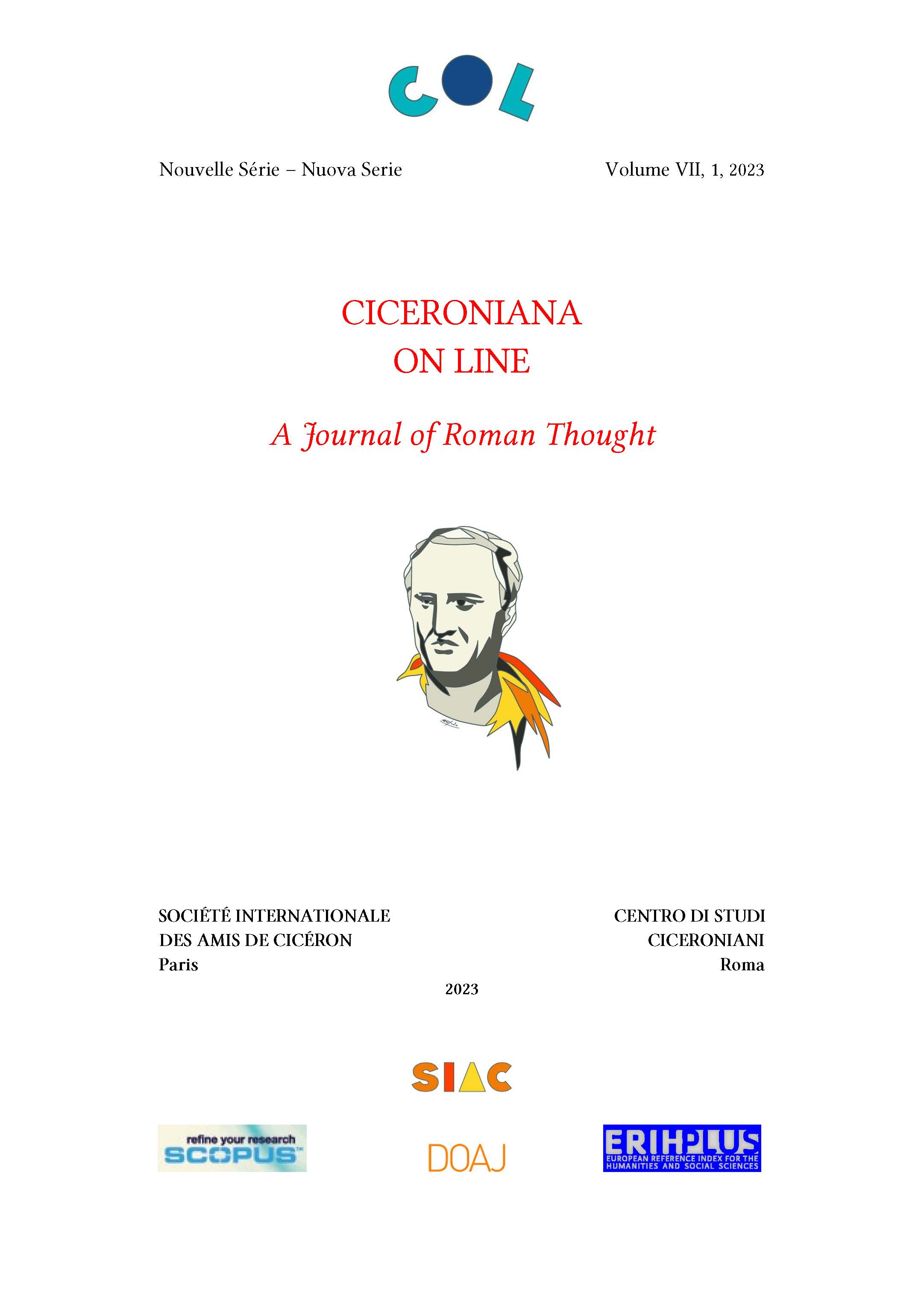 How to Cite
Godinot, E. (2023). Indifference and virtue: Pyrrhon according to Cicero . Ciceroniana on Line, 7(1), 159-183. https://doi.org/10.13135/2532-5353/7740
Copyright (c) 2023 Ciceroniana on line
This work is licensed under a Creative Commons Attribution-ShareAlike 4.0 International License.
Authors who publish with this journal agree to the following terms:


Authors retain copyright and grant the journal right of first publication with the work simultaneously licensed under a Creative Commons Attribution License that allows others to share the work with an acknowledgement of the work's authorship and initial publication in this journal.
Authors are able to enter into separate, additional contractual arrangements for the non-exclusive distribution of the journal's published version of the work (e.g., post it to an institutional repository or publish it in a book), with an acknowledgement of its initial publication in this journal.