Cicero meets Euporia
Amedeo A. Raschieri, AAR

Università Statale di Milano

Federico Boschetti, FB

Istituto di Linguistica Computazionale "A. Zampolli" del CNR di Pisa
Abstract
This contribution presents two projects: EuporiaRhetorica and the Digital Lexicon of Ancient Rhetoric (DiLAR). DiLAR aims at creating a lexicon of Latin and Greek rhetorical terminology from the annotation of texts. EuporiaRhetorica is the
tool developed by Federico Boschetti, by which the authors are proceeding with the annotation of the rhetorical texts that will constitute the DiLAR. The Euporia method firstly requires a context-free grammar to define the formal annotation
language. Secondly, it needs a parser to interpret the language and represent its tree structure (AST: Abstract Syntax Tree). Finally, Euporia requires a visitor to pass through each tree node to perform operations or serialize the language differently. In particular, the contribution highlights the advantages of the Euporia method applied to the annotation of texts at the thematic and lexical level through the case study of Cicero's rhetorical texts and the Rhetorica ad Herennium.
Downloads
Download data is not yet available.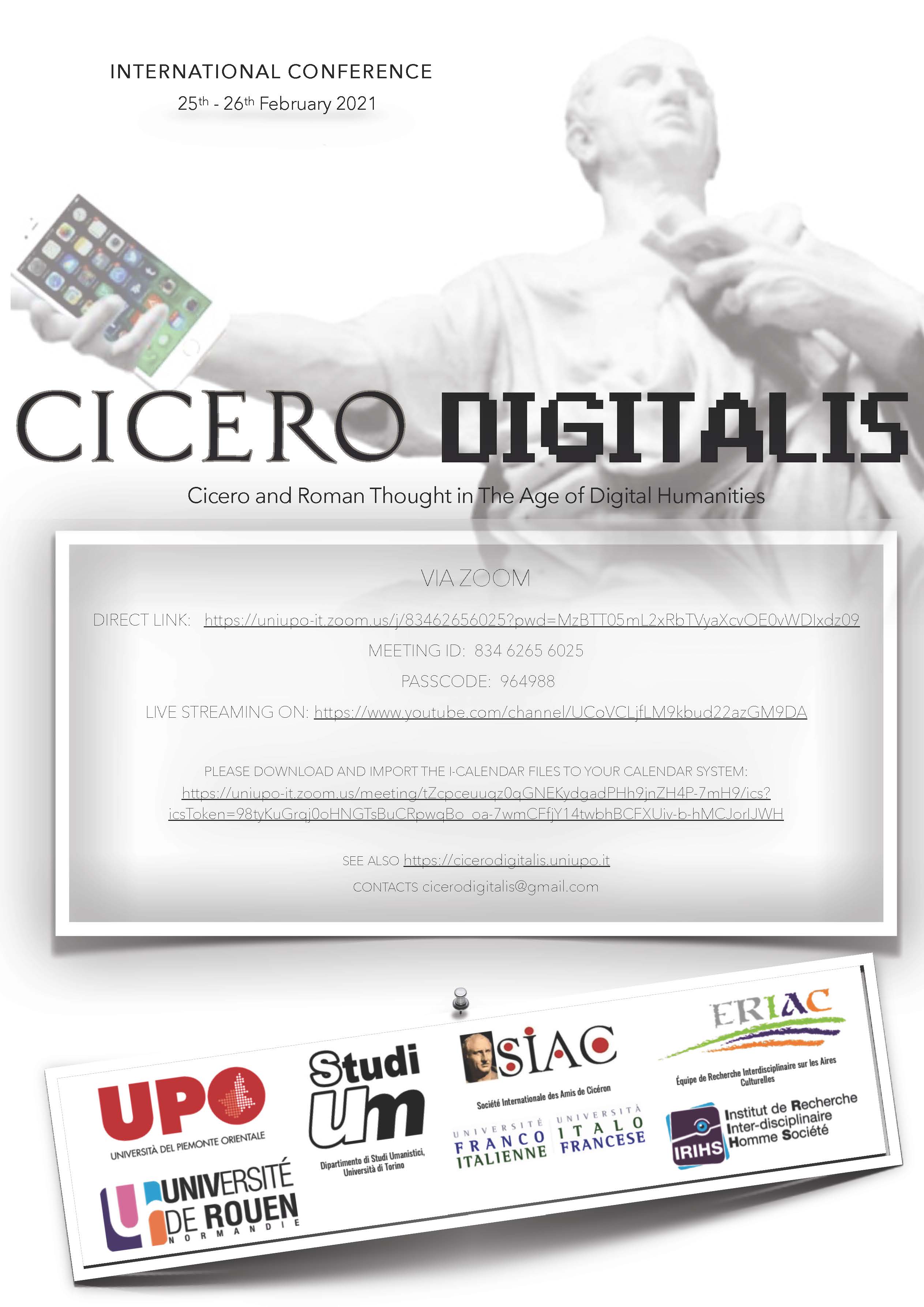 How to Cite
Raschieri, A. A., & Boschetti, F. (2021). Cicero meets Euporia. Ciceroniana on Line, 5(2), 297-309. https://doi.org/10.13135/2532-5353/6524
Copyright (c) 2021 Ciceroniana on line
This work is licensed under a Creative Commons Attribution-ShareAlike 4.0 International License.
Authors who publish with this journal agree to the following terms:


Authors retain copyright and grant the journal right of first publication with the work simultaneously licensed under a Creative Commons Attribution License that allows others to share the work with an acknowledgement of the work's authorship and initial publication in this journal.
Authors are able to enter into separate, additional contractual arrangements for the non-exclusive distribution of the journal's published version of the work (e.g., post it to an institutional repository or publish it in a book), with an acknowledgement of its initial publication in this journal.