Making Order in the Vaults of Memory: Tamil Satellite Stanzas on the Transmission of Texts
Eva Wilden

Universität Hamburg
Keywords:
Tamil, Caṅkam literature, oral literature, manuscript studies, printing history
Abstract
The Tamil intellectual universe, like so many others, underwent a profound change in the course of the 19th century, the period when print, although not unknown before, became available for the first time on a large scale, which allowed the publication and dissemination of a variety of text corpora from the Tamil poetic and religious traditions. This process has been described in recent years, for its material and political impact, from a number of sides, be it manuscript studies, print studies and literary or general social history. An understudied aspect seems to be the sources of continuity in this transformation, and an important part of these is a type of free-floating stanza, most often a four-liner in the Veṇpā metre, transmitted in the paratextual margins of texts, orally handed down from teacher to student and figuring large in prefaces and introductions to the early prints. It is these little verses of mostly indeterminable date and origin which helped to shape the form today's corpora and canonic works are printed in. They have to be understood, on the one hand, as a way precarious knowledge was preserved in periods of instability and perishable media, and on the other hand as specimens of a literary genre by itself. Moreover, there are reasons to believe that they were deemed important enough to supply them in cases where transmission failed.
Downloads
Download data is not yet available.
References
Primary Sources
a) Manuscripts
Aiṅkuṟunūṟu Tiruvāvaṭutuṟai Mutt Library (TVM) Eṭṭuttokai
U.V. Swaminathaiyar Library (UVSL) 98
Aintiṇai Aimpatu Government Oriental Manuscript Library (GOML) D.205/TD.84
GOML D.206/TD.53
GOML D.207/D.137
Akanāṉūṟu TVM Eṭṭuttokai
UVSL 237
UVSL 11/73
UVSL 4/66
UVSL 5/67
GOML R-5734/TR1050
Kaliyārāycci GOML R-5780
Kīḻkkaṇakku UVSL 885
UVSL 603
UVSL 1078
Paripāṭal UVSL 1077
b) Editions
Aiṅkuṟunūṟu mūlamum paḻaiyavuraiyum. Ed. by U.Vē. Cāminātaiyar, Vaijayanti Accukkūṭam, Ceṉṉapaṭṭaṇam 1903 (2nd ed. Kaṇeṣa Accukkūṭam, Ceṉṉapaṭṭaṇam 1920; various reprints by UVSL).
Aintiṇaiyaimpatu mūlamum uraiyum. Ed. by Rā. Rākavaiyaṅkār, Tamiḻccaṅka Muttiracālai. Maturai 1912.
Neṭuntokai ākum Akanāṉūṟu mūlamum paḻaiya uraiyum [old comm. for KV-90]. Ed. by Vē. Rā. Rāka-vaiyaṅkār/Rājakōpālāryaṉ [new comm. for 91-160], Kampar Pustakālayam, Kamparvilāsam Mayilāppūram, Śrīmuka v° (= 1933/34).
Kalittokai nacciṉārkkiṉiyār uraiyuṭaṉ: Ed. by Ci.Vai. Tāmōtarampiḷḷai, Scottish Press, Madras 1887.
Kalittokai mūlamum nacciṉārkkiṉiyār uraiyōṭum. Ed. by I.Vai. Aṉantarāmaiyar, Tamiḻp Palkalaik Kaḻakam, Tañcāvūr 1984 (rep. in one vol. of two books from 1925, 1931).
Kalittokai + Nacciṉārkkiṉiyar's Comm.: Ed. by Kācivicuvanātan Ceṭṭiyār. Tirunelvēli/Madras 1938.
Kuṟuntokai: Ed. + Comm. by U.V. Cāminātaiyar. Madras 1937 (2nd ed. 1947, 3rd ed. 1955; various reprints by UVSL).
Mutal, Iraṇṭām, Mūṉṟām Tiruvantāti with comm. of Periyavāccāṉ Piḷḷai, ed. by Si. Muttukruṣṇanāyuṭu and Śrī Vaiṣṇava Grantamutrāpakasapai, Ceṉṉappaṭṭaṇam 1901.
Paripāṭal mūlamum āciriyar parimēlaḻakariyaṟṟiya uraiyum: Ed. by U.V. Cāminātaiyar, Kamarṣiyal Accuk-kūṭam, Ceṉṉai 1918 (2nd ed. 1935; various reprints of the UVSL).
Patiṉeṇkīḻkkaṇakku. Es. Rājam (eds.), Ceṉṉai 1959.
Pattuppāṭṭu mūlamum Nacciṉārkkiṉiyar uraiyum: Ed. by U.V. Cāminātaiyar, Tirāviṭātnākara Accukkūṭam 1889 (2nd ed. Kamarṣiyal Accukkūṭam, Ceṉṉai 1918, 3rd ed. Kēcari Accukkūṭam, Ceṉṉai 1931; va-rious rep. by UVLS).
Tiruviḷaiyāṭaṟpurāṇam. Cellinakarp Perumpaṟṟippuliyūr Nampi iyaṟṟiyatu. Ed. by U.Vē. Cāminātaiyār, Ka-beer Printing Works, Madras [1906, 1927], 1972.
Secondary Sources
Blackburn, Stuart H. 2003. Print, Folklore and Nationalism in Colonial South India. New Delhi: Permanent Black.
Cāminātaiyar, U.Vē. 1950 (reprint UVSL 2000). eṉ carittiram. Kapīr Accukkūṭam: Ceṉṉai. [English translation My Life. An Autobiography of Dr. U.V. Swaminathaiyer by Zvelebil, K., Institute of Asian Studies, Ceṉṉai 1990+94]
Carruthers, Mary. 2008. The Book of Memory: A Study of Memory in Medieval Culture. Cambridge: Cambrid-ge University Press.
Ebeling, Sascha. 2010. Colonizing the Realm of Words. The Transformation of Tamil Literature in Nineteenth-Century South India. New York: Sunny Press, State University of New York.
Govindasamy, M. 1977. A Survey of the Sources for the History of Tamil Literature. Aṇṇāmalai University: Aṇṇāmalainakar.
Gros, François. 1968. Le Paripāṭal. Texte tamoul. Introduction, traduction et notes. Pondichéry: Institut français d'indologie (Publications de l'Institut français d'indologie; 35).
Mangamma, J. 2010. Book Printing in India. With Special Reference to the Contribution of European Scholars to Telugu (1746-1857). Kuppam: Dravidian University.
Minkowski, Christoph. 2008. "Why Should We Read Maṅgala Verses?" In Śāstrārambha. Inquiries into the Preamble in Sanskrit, edited by Walter Slaje, 1-24. Wiesbaden: DMG/Harrassowitz.
Nampi Arooran, K. 1980. Tamil Renaissance and Dravidian Nationalism, 1905-1944. Maturai.
Pechilis Prentiss, Karen. 2003a. "On the Making of a Canon: Historicity and Experience in the Tamil Śiva-bhakti Canon." International Journal of Hindu Studies 5.1: 1-26.
Pechilis Prentiss, Karen. 2003b. "Translation of the Tirumuṟaikaṇṭapurāṇam; attributed to Umāpati Civācāriyār." International Journal of Hindu Studies 5.1: 27-44.
Rajeswari, T. 2009. "Pālaikkali Verses and Their Authors." In Between Preservation and Recreation: Tamil Traditions of Commentary. Proceedings of a Workshop in Honour of T.V. Gopal Iyer, edited by Eva Wil-den, 255-268. Pondichéry: IFP-EFEO Collection Indologie 109.
Sweetman, Will. 2012. The Bibliotheca Malabarica. Bartholomäus Ziegenbalg's Library of Tamil Texts. An An-notated Edition and Translation. Pondichéry: IFP/EFEO, Collection du département Indologie 119.
Trautmann, Thomas. R. (ed.). 2009. The Madras School of Orientalism: Producing Knowledge in colonial South India. New Delhi: Oxford University Press.
Venkatachalapathy, A.R. 2012. The Province of the Book. Scholars, Scribes and Scribblers in Colonial Tamilna-du. New Delhi: Permanent Black.
Wilden, Eva. 2014a. "On the Eight Uses of Palm-leaf – ōlai and ēṭu in the Tamil Literature of the First Millennium", Manuscript Cultures 5: 68-75.
Wilden, Eva. 2014b. Manuscript, Print and Memory: Relics of the Caṅkam in Tamilnadu. De Gruyter: Berlin.
Zvelebil, Kamil Veith. 1994. Lexicon of Tamil Literature. Leiden, New York, Köln: E. J. Brill.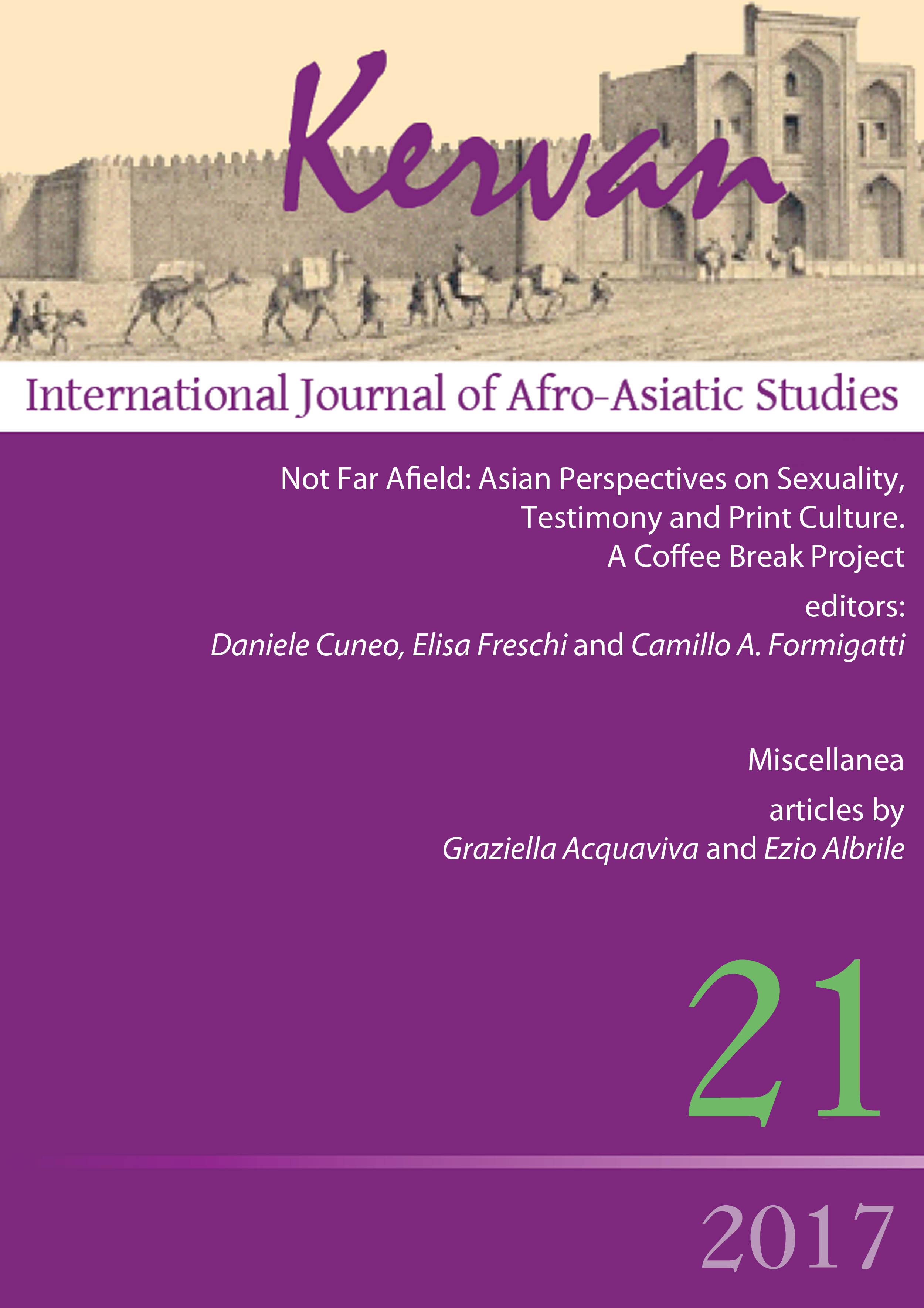 Section
Change of Paradigms and Mechanical (Re)discoveries: Manuscript and Print Cultures across Asia