Lucretius in Horace's Ars poetica. From words as leaves to the senex laudator temporis acti
Manuel Galzerano

Università Roma Tre
Abstract
The influence of Lucretius' De rerum natura is clearly felt in Horace's Ars poetica both at the macro-level of the construction of the text as a didactic work and at the micro-level of the individual iuncturae that compose it. This paper examines two crucial passages of the Epistle to the Pisos: the reflection on the use of neologisms crowned by the similarity between words and leaves (vv. 45-72) and the review of the characters corresponding to the four ages of man (vv. 156-178). The intertextual analysis of the two passages sheds light on the entanglement linking Horace's treatment of the physical, ethical, and aesthetic doctrines of Lucretius; at the same time, it reveals Horace's considerable degree of freedom in his constant dialogue with the De rerum natura. The acknowledgement of the centrality of the Lucretian model is also helpful in solving age-old textual problems, allowing for the acceptance of certain debated emendations (e.g. Bentley's priuos in annos in v. 60) or the confirmation of the integrity the text (e.g. spe longus auidusque futuri in v. 172).
Downloads
Download data is not yet available.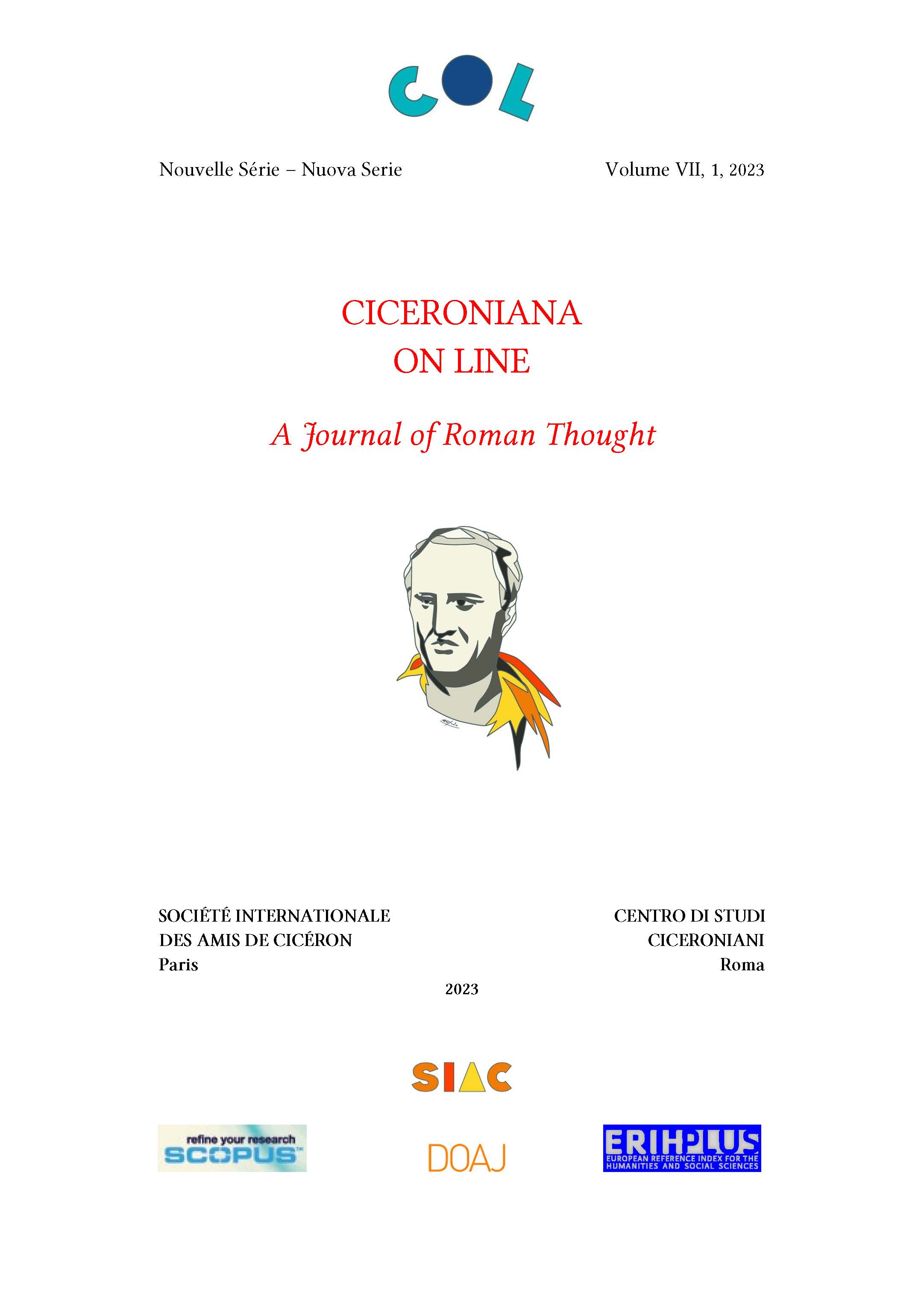 How to Cite
Galzerano, M. (2023). Lucretius in Horace's Ars poetica. From words as leaves to the senex laudator temporis acti. Ciceroniana on Line, 7(1), 187-219. https://doi.org/10.13135/2532-5353/7741
Section
Intellectual Life at Rome and Beyond
Copyright (c) 2023 Ciceroniana on line
This work is licensed under a Creative Commons Attribution-ShareAlike 4.0 International License.
Authors who publish with this journal agree to the following terms:


Authors retain copyright and grant the journal right of first publication with the work simultaneously licensed under a Creative Commons Attribution License that allows others to share the work with an acknowledgement of the work's authorship and initial publication in this journal.
Authors are able to enter into separate, additional contractual arrangements for the non-exclusive distribution of the journal's published version of the work (e.g., post it to an institutional repository or publish it in a book), with an acknowledgement of its initial publication in this journal.