Nunc emergit amor. Do poenas temeritatis meae. Le emozioni di Cicerone nel dilemma politico del 49 - Nunc emergit amor. Do poenas temeritatis meae. Cicero's Emotions in the Context of the Political Dilemma of 49
Luciano Traversa

Università di San Marino
Abstract
Riassunto Questo lavoro si propone di valutare l'impatto dell'emotività sulla decisione
politica di Cicerone nel 49: seguire Pompeo a Brindisi dopo aver ripetutamente mediato tra lui e Cesare. A tal fine si è scelto di percorrere la pista di indagine lessicale, utilizzando come parole-scandaglio amor e temeritas, data la loro interrelazione, piuttosto significativa, nella lettera ad Attico 9, 10. Dopo un breve excursus sulla loro base semantica, all'interno della più ampia riflessione filosofica sulle emozioni, si conduce un confronto tra i sospetti di manipolazione nella pratica ciceroniana dell'amicizia e alcune tracce di autenticità nell'amor erga Pompeium che lo stesso lessico rivela.

Abstract This paper aims to evaluate the impact of emotionality on the political decision
taken by Cicero in 49: follow Pompey at Brundisium after having repeatedly mediated between him and Caesar. To this end, it was decided to follow the lexical investigation path, using as key-words amor and temeritas which are closely connected in the letter to Atticus 9, 10. After a brief excursus on their semantic base, within the broader philosophical reflection on emotions, a comparison is made between the suspicions of manipulation in Cicero's practice of friendship and some traces of authenticity in amor erga Pompeium that the same lexicon reveals. 
Downloads
Download data is not yet available.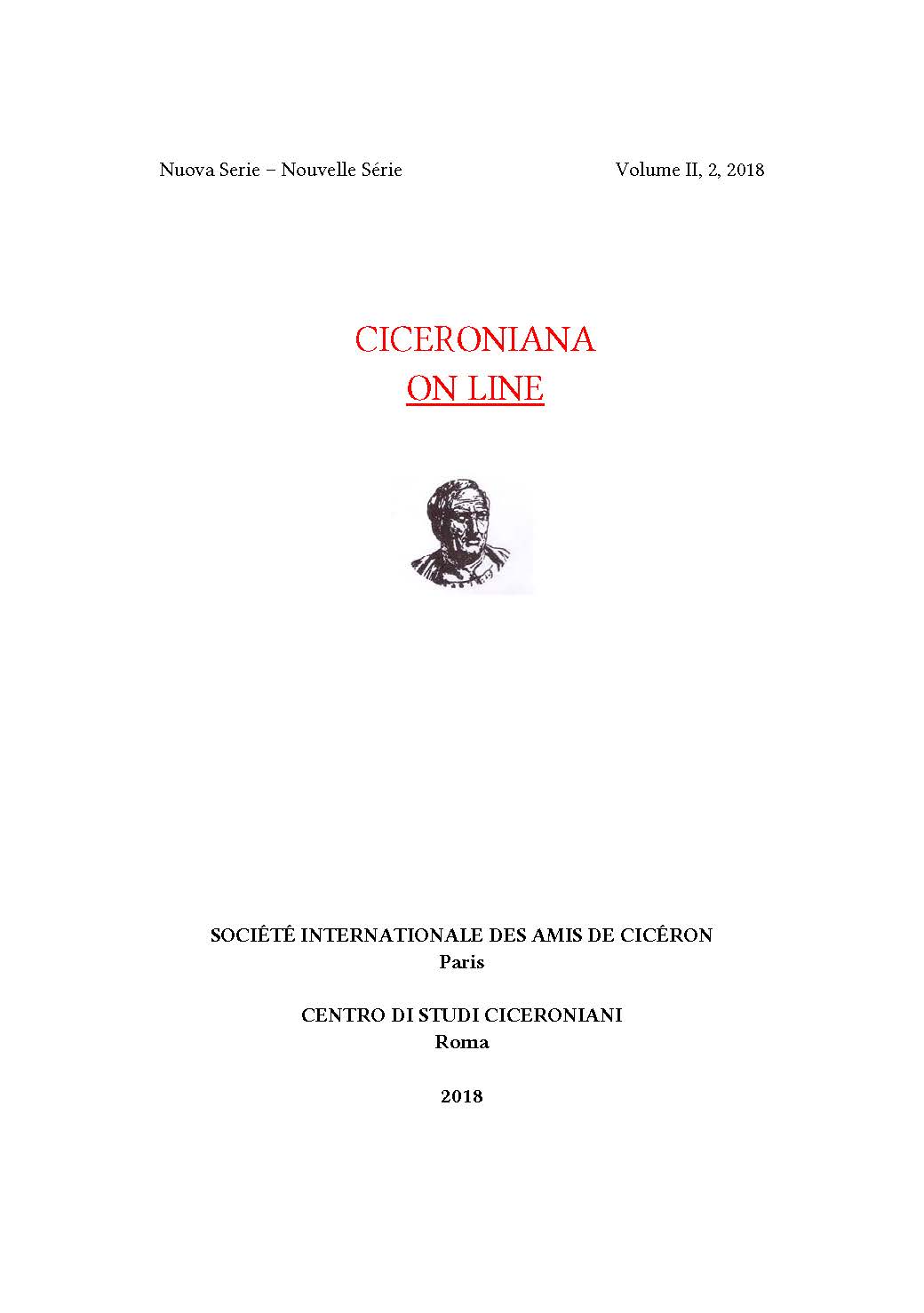 How to Cite
Traversa, L. (2018). Nunc emergit amor. Do poenas temeritatis meae. Le emozioni di Cicerone nel dilemma politico del 49 - Nunc emergit amor. Do poenas temeritatis meae. Cicero's Emotions in the Context of the Political Dilemma of 49. Ciceroniana on Line, 2(2), 265-292. https://doi.org/10.13135/2532-5353/3030
Copyright (c) 2018 Ciceroniana on line
This work is licensed under a Creative Commons Attribution-ShareAlike 4.0 International License.
Authors who publish with this journal agree to the following terms:


Authors retain copyright and grant the journal right of first publication with the work simultaneously licensed under a Creative Commons Attribution License that allows others to share the work with an acknowledgement of the work's authorship and initial publication in this journal.
Authors are able to enter into separate, additional contractual arrangements for the non-exclusive distribution of the journal's published version of the work (e.g., post it to an institutional repository or publish it in a book), with an acknowledgement of its initial publication in this journal.